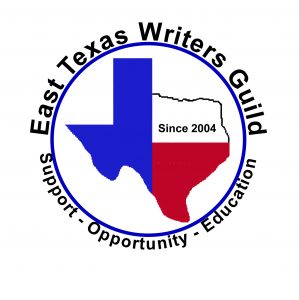 East Texas Writers Guild 14th Annual Summer Conference
                          KEYS TO SUCCESSFUL WRITING –
                         Mystery, First Draft, Emotion, Drama, Humor
Saturday, July 15  *  9:00 am – 4:00 pm
Tyler Junior College – West Campus – 1530 S SW Loop 323, Tyler, Texas 75701
CONFERENCE SCHEDULE
8:30 – 9:00 Registration
9:00 – 10:30  Claire Sanders – How I Learned to Show and Not Tell
10:30 – 10:40  Break
10:40 – 12:10  Jamie Jones – The Craft of Rewrite – When Revising is Not Enough
12:10 – 1:30  Lunch catered by Jason's Deli
Announcement of winners of ETWG Blue Ribbon Book Cover Contest
Fabulous Door Prizes
1:30 – 3:00  Patricia Burroughs – Writing With Passion
3:00 – 4:00  Mix and Mingle with speakers, authors & vendors
CONFERENCE FEE
$65 members; $75 non-members; $25 students; $10 Early Bird discount before June 1
  (Lunch included)
To Register, Click Here:

Patricia Burroughs (Pooks) – Writing with Passion    
  
Emotion hooks the reader's imagination and emotion keeps the reader turning the pages long after the midnight hour.
Pooks began her writing career in romance with five published novels. She received nominations and recognition from RT Reviews and was a Finalist for Romance Writers of America's RITA.
She is the only screenwriter in history to be a Finalist twice with two different scripts for the Nicholl Fellowships in Screenwriting. The second occasion, she received the $30,000 Fellowship from the Academy of Motion Picture Arts & Sciences for Redemption, an adaptation of her first published novel, La Desperada.
In 2015, Pooks was honored to receive a "Pioneer of Romance Award" from RT, and This Cumbling Pageant, Volune One of The Fury Triad received a Golden Quill Award for Best Romantic Fantasy.
She is presently writing an epic fantasy trilogy that has taken her and her husband on several research trips to the British Isles. The Crumbling Pageant is out from Story Spring Publishing in hardcover, trade paperback and digital, and The Dead Shall Live will be out in 2017. The final volume will be out in 2018.
Claire Sanders – How I Learned to Show and Not Tell
Learning to show and not tell is often one of the most difficult challenges beginning writer's face
 In this presentation, the participants will view scenes from a movie and translate how the action and dialogue give the viewer information about the characters and plot.
After many years of writing and publishing in the nonfiction world of academia, Claire turned her energy, humor, and creativity towards the production of compelling romantic fiction. Claire writes captivating stories that fit the genres of contemporary, historical, and inspirational romance. Claire creates heroes any woman would want to be with and heroines who overcome all obstacles. Written with tenderness, her stories engage the reader's heart and imagination. Claire lives in the greater Houston area with her daughter and two- well-loved dogs. When she isn't writing, you'll find her cooking, gardening, and dreaming of places to travel.
To learn more about Claire, click here:  clairesandersbooks@yahoo.com
To follow her on Facebook:  https://www.facebook.com/claire.sanders.5682
Jaime Jones – The Craft of Re-write. When Revising Is Not Enough.
   Jaime's presentation will include fifteen "heartbeats" that are present in good   storytelling and the tools he developed when he rewrote his first novel.
Jamie Jones is a self-published author. He spent nine years working as a public school teacher, and that experience provides the backdrop of Jamie's debut series, "The Naughty Teachers."  Lesson Plans, Guided Practice, Explicit Instruction, Response to Intervention, Common Core and Professional Development all take place in northern Louisiana within the framework of the public education system. Jamie's second series, "The Bennett Family Series," charts a family of five brothers meeting the women of their dreams, or women they'd never dreamed of meeting.  Jamie lives in Austin, Texas…where people are nice.
To learn more about Jaime, click here:  Jamiejonesauthor.com