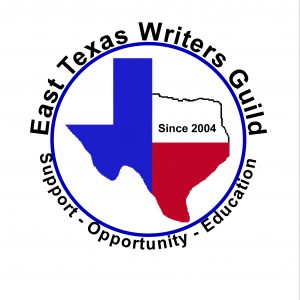 East Texas Writers Guild 15th Annual Summer Conference
 The Power of the Pen
Roger Leslie: Narrative–Point of View  
Caleb Pirtle III: Memoir: The Good, The Bad, and The Ugly
John Foxjohn: The Heart of the Story
Alan Bourgeois: Marketing Renegade Style
Saturday, July 14  *  9:00 am – 3:00 pm
Tyler Junior College – West Campus – 1530 S SW Loop 323, Tyler, Texas 75701
LOOK FOR DIRECTIONAL SIGNS:  PLENTY OF FREE PARKING
***Bring a Jacket or  Sweater for Comfort since A/C is often cold***

***Ready to show off your ETWG style and rock your writer super power?Click here to order your 2018 T-shirt.***

CONFERENCE SCHEDULE
8:30 – 8:55 Sign in, Registration
8:55 – 9:00 Welcome, housekeeping
9:00 – 10:00 Roger Leslie "Narrative Point of View"
10:00 – 10:15 Break
10;15 – 10:25 Door Prizes  
10:25 – 11:25 Caleb Pirtle III "Memoir: The Good, The Bad, and The Ugly"
 11:25 – 12:25  Lunch catered by Jason's Deli
12:25 – 12:35  Door Prizes
12:35 -1:35 John Foxjohn "The Heart of the Story"
1:35 -1:45 Break
1:45 -2:45 Alan Bourgeois "Marketing Renegade Style" 
2:45 – 3:00 Door Prizes, Conclusion  
CONFERENCE FEE
$65 members $75 non-members; $25 students; $10 Early Bird discount before June 1
  (Lunch included)
To Register, Click Here:

Roger Leslie – Narrative Point of View – A Different Perspective    

Like a film director, the narrator plays the most important creative role in the production of any written work. Determining what to share with readers, when to show it, and how close you bring readers to the characters and action establishes the power of your storytelling. In this lively session you will explore various points of view and determine, individually and as a group, the strengths and shortcomings of each perspective in order to make your work the most powerful it can be.
Prolific, award-winning author, Roger Leslie is a scholar in the fields of education, film history, and success. His bestselling books include fiction, inspirational self-help, teaching and librarianship, biography, and movie reference. Leslie's love of books extends beyond his own love of writing, He is a compassionate editor, inspiring writing coach, and dedicated publisher committed to helping other authors make their dreams come true.
Caleb Pirtle III –Memoir: The Good, The Bad, and The Ugly
Caleb Pirtle III is the author of more than seventy-five books, including the acclaimed Lincoln Ambrose series of historical thrillers set against the backdrop of World War II: Secrets of the Dead, Conspiracy of Lies, Night Side of Dark, and Place of Skulls. His historical novel about the discovery of oil in East Texas during the 1930s, Back Side of a Blue Moon, recently won the Beverly Hills Book Award for Historical Fiction Southwest and received the Best of Texas Book Award for Historical Fiction/Small Town.
Pirtle grew up in the oil fields of Kilgore and is a journalism graduate. He became the first student at The University of Texas to win the William Randolph Hearst Award for feature writing. His work at the Fort Worth Star-Telegram won several awards from both Associated Press and Texas Headliner's.
Pirtle has traveled many back roads during his career as newspaperman, magazine editor, and author. His collection of people and their stories has been published in a memoir of sorts, The Man Who Talks to Strangers. He writes about those whose paths he crossed – from the homeless to celebrities, from country music stars to death row inmates, from farmers who struck it rich overnight when oil erupted to farmers who dug for oil and only found dirt and a few worms at the bottom of the hole.
As he had learned while writing numerous travel and historical nonfiction books, "What happens is never as important as the people who make it happen." His XIT: The American Cowboy, The Unending Season, Spirit of America, Echoes from Forgotten Streets, and The Grandest Day were all award winners.
Caleb and his wife Linda run a Website devoted to supporting indie authors and connecting readers, writers, and books.
JOHN FOXJOHN – The Heart of the Story
Whether it is nonfiction or fiction, there's a lot that goes into writing a book—many elements that have to be constructed and implemented so the reader can enjoy the story. Often, writers focus on the big picture, the big elements of the story: characterization, plot, conflict, etc. They forget the scene—the heart of the story—what drives everything.
Best-selling author John Foxjohn epitomizes the phrase "been there—done that." Born and raised in the rural East Texas town of Nacogdoches, he quit high school and joined the Army at seventeen: Viet Nam veteran, Army Airborne Ranger, policeman and homicide detective, retired teacher and coach, now he is an award-winning, multi-published, best-selling author.
Foxjohn's accolades as a writer are piling up. Besides his New York Times, USA Today, and International selling awards, Foxjohn has earned awards in writing from Romance Writers of America, Mystery Writers of America, and others. Foxjohn is the only writer who has been asked to present a program at the Mystery Writers of America national convention and the Romance Writers of America national convention.
Foxjohn has been voted author of the year and mentor of the year.
Besides all of this, Foxjohn was also a nominee for the Mystery Writers of America's vaunted Edgar Award.
Foxjohn lives in Lufkin, Texas with his wife. When he's not writing, teaching writing classes, or speaking to different writing groups and conferences, Foxjohn loves to spend time square dancing, working in his rose garden, or in his garage doing woodwork.
ALAN BOURGEOIS – Marketing Renegade Style
During the 2017 Survey of Social Media sites and bookstores, it was estimated that in Texas alone, there are over 8,400 Published Texas Authors. This means you are already competing for attention and sales within your own state. Then add in the 1 million USA authors and then the millions, if not billions of worldwide authors you are competing against, you must figure out a way to stand out!
If you want to build a career as a writer, you MUST market yourself and your book, even if you are with a traditional publisher! If anyone tells you that you DO NOT need to do this, they are trying to sell you false goods. However, how you market your books can be done in smart ways that don't cost you a lot of money or time.
In the award-winning presentation, Marketing Renegade Style, created by B Alan Bourgeois, he will take you through some very basic steps on how to think outside the box to create marketing ideas that work and will give you an edge in presenting you and your books to Readers. As with any program, if you pick and choose what you want to do, your success rate will vary.
Bio
Through the process of writing and getting published, Mr. Bourgeois saw a need for additional marketing avenues for Authors that was not covered in the normal channels. While there were a lot of new 'web' based social networks for authors, there was nothing that really helped challenge them, and or gave them a way to promote themselves in a way that finds new readers; IndieBeacon.com is in the process of being that new marketing tool.
In addition, Mr. Bourgeois saw a special niche market for Texas Authors; Texas Assoc. of Authors was thus created to highlight the estimated 1,000 Texas Authors that write on a wide range of subject matter. TAA does this through seminars, their online bookstore, and traveling around the state with the TAA 'pop up' store.
Mr. Bourgeois continues to write when he can and assist new authors through his company Bourgeois Media & Consulting (BMC). He finds great joy in helping authors work through the various steps and processes needed to get their book(s) published. "There is nothing greater than seeing someone's dreams become reality," he says.