Our First Conference Speaker was Maya Golden Bethany, an Associated Press winning and Emmy-nominated multimedia journalist, who gave us a presentation on book marketing called: STAND OUT IN THE STACKS: BOOK MARKETING ON A BUDGET.
She told us that it is estimated that 4 million books are released annually. Almost a million are traditionally published and almost two million are self-published. That's a pretty big stack! So how do you stand out and make a splash in such a big literary sea? Maya provided tips for social media marketing, engagement and networking with other authors to help your publication receive the attention it deserves.
Visit Maya here: Website: goodasgolden.com Facebook: www.facebook.com/MGBWrites Twitter: @Maya_Golden Instagram: @goodasgolden.
Our next speaker was Brad Maule presented an entertaining monologue on his life experiences in the entertainment media. He acted on many television shows and spent twenty-two years on the soap opera General Hospital. Also, a lecturer in film and acting for Stephen F. Austin State University in Nacogdoches, Texas.
After a brief lunch and giving out some raffle prizes, we heard Jody Thompson giving out good advice on publishing in her "Terrible Advice Tackled" presentation. She owns a small, traditional publishing house called Fawkes Press and leads writing workshops across the United States. She gave some good advice on book publishing and what pitfalls to avoid.
Finally, Renee La Viness, an author, editor and founder and judge of the annual La Viness Short Story Writing Contest, led an outstanding discussion on how to self-edit and avoid the grammatical errors and clumsy sentence structures most writers end up with when they attempt to edit their own stories.
Many thanks to April Coker, this year's Club president, for bringing us all these outstanding speakers. I know she spent hours reproducing their material in a notebook for us so we could have our own copy of each one's presentation.
In the end, we had our last raffle of the day and everyone in the room ended up winning something, again a great sign of the hospitality of our club and its attention to making everyone feel welcome.
Breakfast, lunch, snacks and coffee also were served. Here are some pictures of our experiences that da. The first ones are of Maya's presentation.
Brian led us next…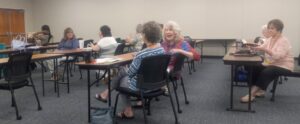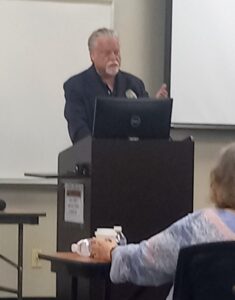 Followed by Jody Thompson and Renee La Viness: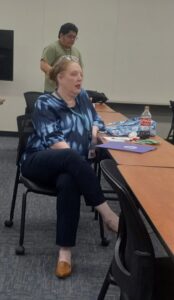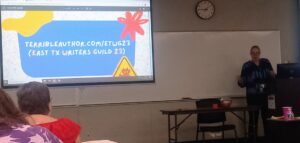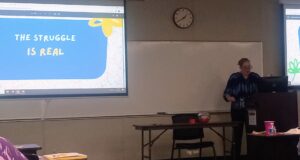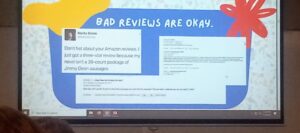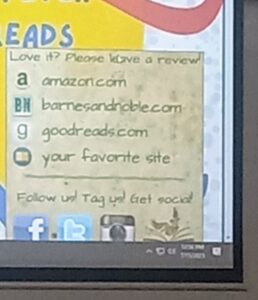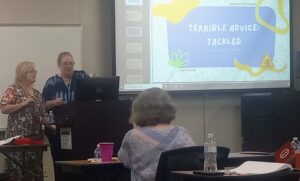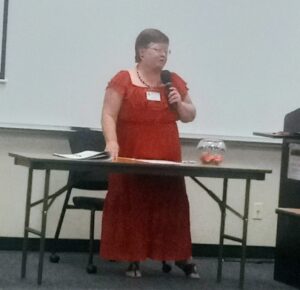 All and all we had a great time!