An award-winning author and speaker—entertains with a purpose in his books and presentations. He's thrilled thousands of readers through his YA Christian mystery/adventure Thunder and Lightning series about two inquisitive boys and their dogs who solve one crisis after another around the world. Aaron volunteers in church and in the community. Check out his info, fun facts, and books on his website— Zookbooks.org, BoldVisionBooks.com, or Amazon.com. Aaron is a retired U.S. Army Colonel and lives with his wife, Joyce, in Holly Lake Ranch, TX. They have two married sons and four wonderful grandchildren.
"The Isle of Intrigue"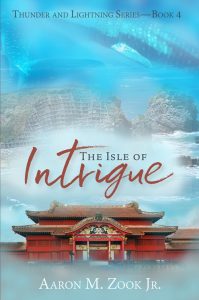 Dateline: Spring 1991. Location: Naha City, Okinawa, Japan
On a foggy Okinawan night, a stranger disrupts the Zanadu family's first island-unique dinner at a seafood restaurant. His violent search for a flying microbot leaves the family devastated, with Gabe and Alex Zanadu's mother unconscious on the floor. An Okinawan government official's son, Mike, whose father was also assaulted, leads the boys in a search for the fleeing thugs. Unsuccessful in bringing the attackers to justice, Gabe and Alex, their two dogs, Thunder and Lightning, and their new friends, Mike and his older sister, Crystal, find themselves hunted by the Okinawan and mainland-Japan mafia. When the Japanese mafia grabs Alex and Crystal, the race is on for Gabe and Mike, along with the dogs, to find and free their siblings before they meet an untimely end.
The Thunder and Lightning Mystery Adventure Series (Published Books)
The Secrets of the Castle
The Salt Mines Mystery
The Phantom of the Fortress
The Isle of Intrigue
Find Aaron Online!
Website: www.ZookBooks.org
Email:Click here to email Aaron
Social Media: Click on the buttons below to connect with Aaron on your favorite social media sites.