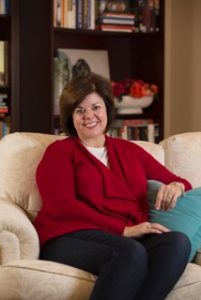 Kimberly Fish has been a professional writer in marketing and media for almost 30 years. In the course of research for the Longview Chamber of Commerce 100-year compilation, she stumbled across a 1940s-federal works project that was too good, too war-winning, to not be retold to modern audience.
In 2017, she released The Big Inch, her first WWII spy thriller detailing the crazy, big pipeline project that fueled the Allies to a win in Europe. The Big Inch has also been released as an audio download on Audible. That eye-opening novel was so consumed by readers, she quickly followed it with a second WWII spy thriller set in Longview, Harmon General. Both of these novels will be helpful to her work with the City of Longview's 150th birthday celebrations which begin in January of 2020. Comfort Plans, a contemporary novel also set in Texas, continues her love of history by weaving old letters into the renovation of an iconic Hill Country farmhouse.
Kimberly has been active in a variety of endeavors favoring East Texas for many years, and enjoys speaking on the value of weaving history and nostalgia into our plans as we grow our communities for the future. She and her husband, Dr. Mel Fish live in Longview, and they are the parents of two delightful, and fully grown, human beings.
"Harmon General"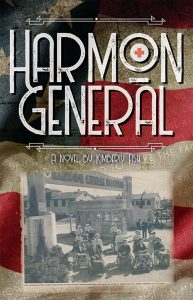 Fans of Pam Jenoff, Susan Elia MacNeal, and Anita Quinn will want to read the second book in a sparkling WWII Historical Fiction series: Harmon General. In this spy thriller, Lane Mercer, now a semi-retired spy, and her frenemy/senior spy with the OSS, Emmie Tesco, have to solve a mystery of who is behind thievery of malaria-fighting developments within the laboratory of U.S. Army hospital, Harmon General—as well as discover the mastermind behind the sale of this information to the Nazi's. For agents with their skill set the mission should be routine, but their maneuvers are complicated when sources reveal their enemy is one of their own—a rogue agent bent on terminating Lane. Second-chance romances, unexpected allies, and a Texas homecoming celebration complicate Lane's mission to keep a lid tightly over her history. Plans to reinvent herself are thwarted, proving that, sometimes, taking on the past is the only way prevent biological warfare on U.S. troops, not to mention, save her sanity.
Kimberly's books are available at www.kimberlyfish.com:
The Big Inch —WWII spy thriller
Harmon General—WWII spy thriller
Comfort Plans —award-winning Contemporary Romance
Find Kimberly Online!
Website: www.kimberlyfish.com